Here's the thing about matcha, for as pop-culture as it is at this moment in time it's been around for thousands of years — and cares non if you love it or hate it.
It's amusing you know, how when things become popular people love to loudly proclaim how much they dislike that said thing. There are people who love lemon or chocolate or coffee or caramel and those who don't, yet most people don't feel the need to stand on a soapbox and declare how much they despise one flavour more than another. Matcha however has landed firmly in the spotlight and therefore has drawn plenty of ire to match its praise.
I, quite obviously as I'm cooking with it, I'm in the love-matcha camp. I've been drinking it for years, baking with it since before it was appearing in all the western-world things, and firmly believe anything made with matcha should actually taste (not just look) like the uniquely flavoured powdered tea.
As you're here on this recipe I'm assuming you're in the love camp too — if not there's plenty of other granola around here to keep you busy.
Of course you could always replace the matcha in this recipe with another powder, but why would you be reading about matcha granola if you didn't like matcha? On the other hand I had someone ask the other day if a recipe containing coconut cream tasted like coconut, so you never can tell (can you see my eye roll from here?) — ha!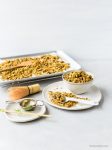 Matcha Granola
INGREDIENTS
4

cups

dry stuff (rolled grains, puffs, shreds, chopped nuts, seeds, kernels, etc)

1/4

cup

melted coconut oil

1/4

cup

rice syrup

1/4

tsp

sea salt

1 - 2

Tbsp

matcha powder
METHOD
Preheat oven to 160°C (320°F), line two rimmed oven trays with baking paper. Mix all dry stuff in a large bowl.

In a jug combine oil, syrup, salt and matcha powder. Whisk with a fork until smooth. Pour wet mixture over dry and stir well until everything is coated. Tip onto the prepared trays and spread evenly.

Bake 10 mins, stir gently to move edges into centre and centre out to edges. Bake a further 15 - 20 mins or so, turning trays and stirring every 5 minutes, until evenly golden. Remove from oven, press granola down with a spatula to compress into clusters and allow to cool completely on trays. Store in an airtight container.
COOK'S NOTES & SUBSTITUTIONS
The amount of oil and syrup you need to achieve a certain texture will depend in part on what's in your 'dry stuff' mixture. Nuts and seeds don't really absorb any liquid so they will require less wet mixture for a loose granola or will simply form better clusters with more. Rolled grains (oats, quinoa, rye etc) and puffs, as well as things like buckwheat and shredded coconut do absorb liquid so you may need a bit more than the advised 1/4 cup each of syrup and oil if you're after sticky crunchy clusters that are heavy on oats and puffs without many seeds and nuts. 
The granola in the photo was made with 1 Tbsp matcha powder, next time I'll increase it to 1 1/2 or 2 Tbsp to intensify the flavour, but it's up to you and your tastebuds on how much you use.
Coconut oil and rice syrup were chosen as coconut is a great pairing with matcha, and rice syrup's mild and not too sweet flavour wouldn't compete with the matcha. Feel free to use any other oils and syrups you prefer.

 

vegetarian // vegan // gluten-free // dairy-free // soy-free