I recently shared the above cheese platter image over on Instagram, and had so many people contact me looking for tips on how to create an entertaining platter on their own that I simply had to share the love here too.
With a few simple tips and tricks anyone can put together a bountiful grazing platter in no time at all, really! Jump ahead to watch a video of this one coming together, or read-on for my top five tips for creating a perfect entertaining platter — cheese or otherwise.
1. Use an appropriately sized platter or board.
A canvas that's slightly smaller than what you think you need will often work better, as it will appear more full and luscious.
Even one cheese, two kinds of crackers, a dip and some fruit can look generous if assembled on a dinner plate, but an over-sized board will make it appear lacking.
2. Start with the large items, then fill in the spaces.
Most everyone has heard of the "Jar of Life" challenge where a jar appears full when filled with golf balls, but as the story continues you see there is still room for pebbles, then sand, then liquid. The same concept works for an entertaining platter.
Place your hero items — cheeses, bunches of fruit, and any bowls — around the plate first. Then start to fill in the spaces with medium items — crackers, dried fruit, charcuterie — nestling them next to the larger ingredients to create a sense of balance and abundance. Finally follow with smaller bits and pieces like nuts, herbs, berries, small vegetables and even chocolate to cover any gaps and create layers of colour and texture.
Whether you're working with cheese, fruit, veggies, or even dessert bites, follow the large-to-small trick and watch it all come together.
3. Little dishes are your friend.
Dips, small round things (I'm looking at you olives), items in sauce or oil, all have their place on an entertaining platter — but unless you're going for a really rustic look you'll want to corral them into small containers.
Remember, there's nothing wrong with setting a few dishes to the side of the platter once it's in place on the table. It creates more visual interest and make it possible to expand the offering without using a board the size of a coffee table.
However, make sure to keep any dishes that are not on the main board nestled in close to the edge so they appear to be part of the presentation. And if it's at all possible, use proper dishes instead of the plastic containers the food lives in at the store — it makes a world of difference.
4. Texture and colour make good things better
Platter hero ingredients tend to be rather monochromatic — generally white(ish) cheese and crackers, red or orange fruits, brown and tan cakes — adding variety through texture and colour creates interest and draws the eye around the board.
Using a cheese platter as an example, start with a long triangle of the hard crumbly variety, a wide triangle of pungent blue, a soft washed-rind round or a log of smooth goat cheese. Then look for crackers that can keep up — water crackers with flecks of pepper, flat lavosh leaves broken into jagged shards, grissini breadsticks, disks of french baguette, hearty nut and seed crisps.
But the accompaniments are what really take your presentation to the next level. Dips of all sorts, pickles, olives, antipasto veggies, charcuterie, fresh fruits and bite-sized vegetables in every colour of the rainbow, nuts and seeds and bits of chocolate just for the fun of it. You don't need all those things on a single platter, but pick a few and really make them shine.
5. Mix and match flavours to seal the deal
Combining opposite (or complementary as the case may be) flavours is a great way to build a standout platter. Sweet and savoury, creamy and spicy, mild and strong. Create a good balance of flavours to keep your guests coming back for another taste, time and again.
Watch it all come together
This platter was styled specifically for photography, so adding character was an important step. If styling for a party you may not want to cut cheese or tear bread before your guests arrive — however no one ever wants to be the first person to pick up a knife, so starting with a platter that appears approachable instead of perfect may avoid the inevitable who-goes-first dance!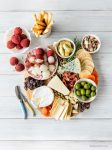 What's on the platter
Show-stopping grazing platters are suited to any occasion, and can be assembled with any combination of ingredients for any occasion.
Create a fruit platter instead of a fruit salad, go heavy on the cheese and crackers, hero charcuterie with pickles and spreads, or even cut cakes and slices into bite-size pieces for a decadent dessert solution.
The following list is what you'll find on the platter photos seen here.
INGREDIENTS
Cheeses:
sharp and crumbly Parmigiano Reggiano with a crunchy salty bits in each bite

smooth and slightly pungent Stilton blue

mild and impossibly creamy washed rind Brie
Crackers:
wafer-thin black pepper water crackers

individual lavosh bites

grissini breadsticks
Sweet:
fresh lychees

dried apricots

bunches of muscat grapes
Savoury:
Sicilian green olives

artichoke hearts in oil

pancetta
Bits & pieces:
pistachios - both in and out of the shell

fresh rosemary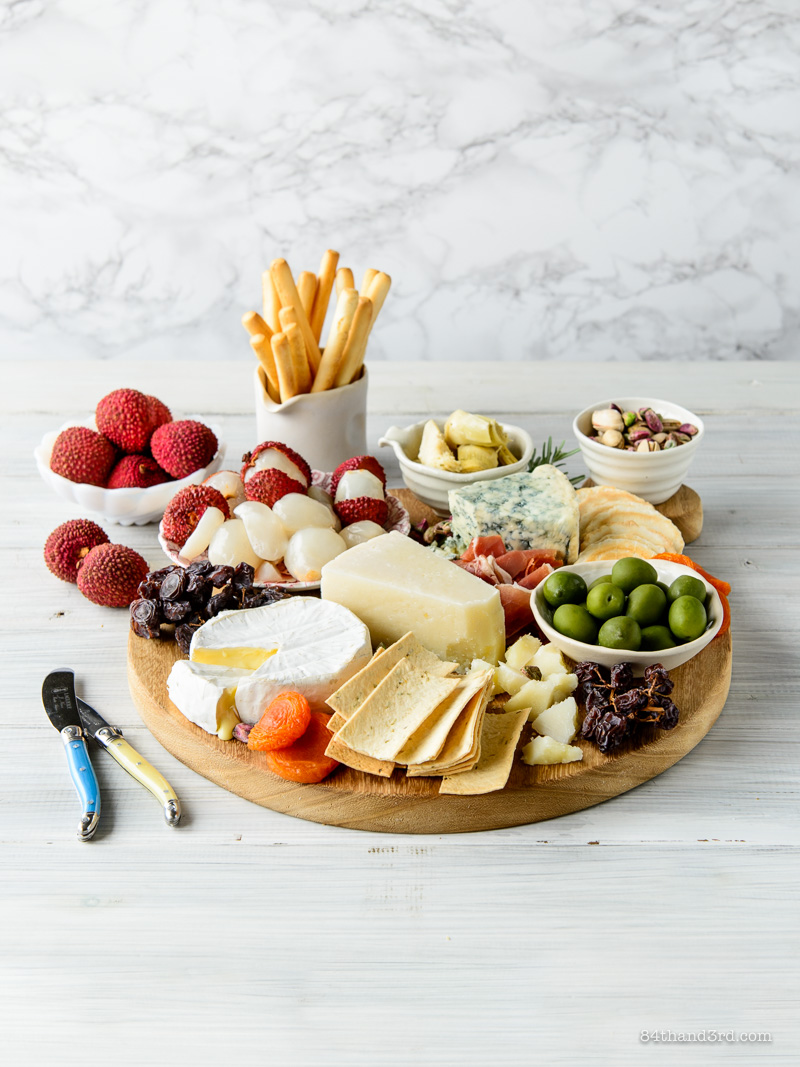 If you try the tips for a platter let me know in the comments below or over on Instagram or Facebook – I'd love to see how you go!
———
This platter was photographed as part of a campaign for Australian Lychees, this post however is all me – I couldn't let a behind the scenes video this good go to waste!