Things have been a little crazy around here lately. Well not HERE specifically, here it's been crickets, but real life has been a touch nuts.
If you're following along at home over on Instagram or Facebook you would have seen that we're moving currently, but that's the pointy end of 6-months since we moved out of our old apartment in the end of May, stuffed everything into storage, and fled the country (haha).
When our two month overseas trip ended we got an Airbnb for a month in Sydney, then house-sat (and more importantly cat-sat) for friends for another two and a half months. And all that was well and good, but just as we were meant to sign a lease on a new apartment — the morning we should have been moving in because for some reason they couldn't get us the paperwork the entire week before, and three days before our friends who's apartment we were in got back — things started to unravel.
Due to a collection of ineptitudes (is that a thing? it is now) by some useless Sydney realestate property managers we bailed at the very last possible moment. We rang our mover — who was already on the way across the bridge to our storage unit — and postponed. Then we set about cancelling all the things that had been set up, and started looking for another apartment. I melted into a puddle.
The good news is that we found a new place pretty quickly, and it was better than the other, but it still meant another two weeks in another Airbnb, and I found it nearly impossible to re-mould myself from that puddle into anything productive.
Not that what was happening was the end of the world, far from it, but it was more that I was so ready to stop living out of a suitcase, and the end-point had been set for so long, that the extra delay was a bit more than I could take. I never thought I'd long for the stability of going into an office every day — and that feeling probably won't come over me again for a while — but working from home when home is not defined, or at least purposefully fluid, is not fun or productive. Or particularly sane.
The good news is we're in the new place — well sort of, we're still staying at a friend's for a few days while we get this new one sorted out (and wait for the shower drain to be unblocked wtf). The light in my studio room is lovely, as is the outlook from our balcony.
The meh news is there are boxes from one end of the apartment to the other (and I'm typing a post instead of unpacking), the new/old table needs to be retrieved from the mother-in-law's garage and refinished, the new/old chairs need to be re-covered, and the new/actually new lounge doesn't arrive until early December.
The bad news is the Friendsgiving I wanted to do this year doesn't look like it's going to happen, but more importantly, I haven't made much less eaten a single piece of pie — pumpkin or otherwise.
This toast is not pie — although with a sweet dukkah and coconut yoghurt instead of goat cheese it would nearly hit the spot — it is however a perfect use for extra roasted pumpkin, sweet potato or carrots. It's a creative way to use up Thanksgiving leftovers, because there are always leftovers, but in the absence of Thanksgiving or leftovers I usually make double pumpkin for dinner on purpose, simply to have some in the fridge for pumpkin tahini toast the next day.
Regardless of what level of stability of meltdown you're at currently, if you're in America-land I hope you have a lovely Thanksgiving. With any hope I'll manage to bake a pie before the weekend is out.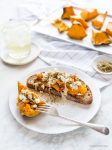 Pumpkin Tahini Toast
While this pumpkin tahini toast is the perfect solution for leftover roast pumpkin (or sweet potato or even carrots) I've been known to make a batch of roast pumpkin specifically to have it on hand for this very combination!
Serves
:
1
- multiply as desired
INGREDIENTS
thick-sliced sourdough or bread of choice

roast pumpkin, skin removed (approx 1/2 cup flesh)

crumbled goat cheese

tahini

dukkah

olive oil
METHOD
Toast bread and smear with a bit of olive oil. Roughly mash pumpkin and spread over toast.

Drizzle with tahini, top with goat cheese (or chopped cashews and a pinch of salt for a vegan version), sprinkle liberally with dukkah and/or any other seasoning you fancy. Serve.
COOK'S NOTES & SUBSTITUTIONS
Roast sweet potato, carrot or really any other mash-able vegetable would substitute perfectly for the pumpkin.
Don't like or have tahini? Use another nut or seed butter instead.
Dukkah is a seed, nut and spice blend, you can also use zatar or simply sprinkle with your favourite spices to change up the flavours.
For a sweet option use a sweet dukkah and swap the goat cheese for coconut yoghurt. 
DIETARY CONCERNS
NATURALLY: vegetarian // soy free // sugar free // nut free
OPTION FOR: gluten free with gf bread // dairy free & vegan with cashews, vegan cheese or coconut yoghurt