Sometimes I have all the words, other times I sit here without a single thing to say. I should probably claim it's simply because these seriously amazing dairy free and gluten free chocolate chip cookies render me speechless — haha — however they tend to inspire exclamations of joy rather than bouts of silence.
I've had these cookies on rotation for months — including making them en-masse for 30+ family members at our cousin-fest reunion back in July, and having even those relatives who roll their eyes at dietary restrictions ask for more and make me promise to send the recipe through.
I've made them tiny and medium sized and large. Scooped them just after mixing, and refrigerated the batter first (better to scoop right away). Used more sugar (ok but too sweet for me), and less oil (ok but not moist enough).
Tested chips and chopped chocolate (chunks over chips every day). Sent the recipe to my sister-in-law who made them successfully, multiple times, with two little helpers under the age of 6 and a 1 year old in the background. And finally tried out a perfect alternative to almond flour to make them nut free.
These cookies are soft (because that's how I like them) but if you store them in the fridge they firm up nicely and get almost fudge-y inside — either way they pair beautifully with a cup of tea or coffee. They would work very well with a glass of milk or sandwiched with ice cream too, but who's counting.
In any case, they're good, you should make them. And it seems, per usual, that I've found something to say — gluten free chocolate chip cookies will do that to me.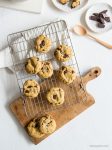 Dairy Free & Gluten Free Chocolate Chip Cookies
Soft and chewy chocolate chip cookies -- all the texture and flavour of the classic without any gluten or dairy. The only problem? You won't be able to stop at just one!
Serves
:
20
cookies (when made with a 1 Tbsp measure)
Calories per serving
:
119
kcal
INGREDIENTS
½

cup

coconut oil, melted (110 ml)

1/3

cup

coconut sugar (45g) or rapadura

1

large egg, at room temperature

1

tsp

vanilla paste or extract

scant ½

tsp

flakey sea salt

1

cup

chickpea (besan) flour (130 g)

½

cup

almond meal (50g) OR brown rice flour (55g)

1

tsp

baking powder

½

cup

dark chocolate chips OR chopped 70% chocolate (80g)
METHOD
Preheat oven to 350°F (180°C). Line two oven trays with baking/parchment paper.

Tip melted coconut oil, sugar, egg, vanilla and salt into a large bowl and stir well with a metal spoon until it looks like thick goo.

Add flour, almond meal, baking powder and chocolate to the bowl and mix well. Scoop dough onto lined trays with a 1 Tbsp measure to make 20 smaller cookies, or divide dough into 12 to make larger ones.

Bake 6 - 7 minutes until just golden on the edges. Cool on tray for 3 minutes (minimum) to let them firm up a bit before moving into a rack to cool completely. Store in a container in the fridge, try to not eat them all in one go.
COOK'S NOTES & SUBSTITUTIONS
Yes, the egg needs to be room temperature so it doesn't cause the coconut oil to harden on contact. For simplicity I place the egg, still in its shell, in a glass of very warm water for 5 mins before cracking it into the bowl. You can probably replace the egg with a chia egg or commercial egg replacer however I haven't tested it yet.
I've used US measuring cups, hence the lower mls/weights. This will work for AU or British cups too, just make sure to measure all ingredients with the same set so you don't end up with too much oil.
For a sweeter cookie increase sugar up to ½ cup.
If the batter seems a bit oily before you bake it don't worry, the cookies will be fine. Coconut oil should be fine to replace with another oil such as olive or macadamia however I haven't tested it yet. 
No, I do not have any suggestions for replacing the chickpea flour with another flour, it acts very differently in regards to absorption than most GF flours. You can try a general GF blend at a 1:1 replacement however you may be better off with another recipe.
I do prefer using almond meal over brown rice flour however both work well. Buckwheat or millet flour in place of the almond should be fine as too.
DIETARY CONCERNS
NATURALLY: gluten free // dairy free // soy free // refined sugar free
OPTION FOR: nut free