One of the things I found during my cupboard and fridge clean out was three open bags of hazelnuts. Really? Really. Not-tella Chocolate Hazelnut Granola was the obvious answer.
Of course if you find yourself in a similar position and are not under the moving-house-need-to-use-all-the-things pump there's always a range of chocolate hazelnut spreads and truffles to fit whatever craving you may have, but for now, granola.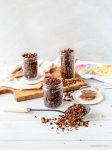 Not-tella Chocolate Hazelnut Granola
The final recipe in my Cleaning Out the Cupboard Granola 101 series takes the much loved chocolate and hazelnut combination and turns it into a crisp moreish granola. Feel free to use more or less hazelnuts (so long as you have a total of 4 cups of dry stuff) to suit your taste, it's your granola after all.
INGREDIENTS
3

cups

dry stuff (rolled grains, puffs, shreds, chopped nuts, seeds, kernels, etc)

1

cup

hazelnuts

1/3

cup

olive oil

1/4

cup

maple syrup

1/4

cup

cacao powder

generous 1/4

tsp

sea salt

1

tsp

vanilla paste or extract
METHOD
Preheat oven to 160°C (320°F), line two rimmed oven trays with baking paper. Mix all dry stuff and hazelnuts in a large bowl.

In a jug combine oil, syrup, salt, cacao powder and vanilla. Whisk with a fork until smooth. Pour wet mixture over dry and stir well until everything is coated. Tip onto the prepared trays and spread evenly.

Bake 10 mins, stir gently to move edges into centre and centre out to edges. Bake a further 15 - 20 mins or so, turning trays and stirring every 5 minutes, until golden...

- Just kidding, it's impossible to tell when chocolate granola is golden, don't let anyone tell you differently, I usually spoon a small amount into a dish that's been in the freezer to cool it quickly, if it is crisp when cool it's done.

Remove from oven, press granola down with a spatula to compress into clusters and allow to cool completely on trays. Store in an airtight container.
COOK'S NOTES & SUBSTITUTIONS
I've increase the oil in this version of granola from 1/4 to 1/3 cup to account for the cacao powder. The amount of oil and syrup you need to achieve a certain texture will depend in part on what's in your 'dry stuff' mixture. Nuts and seeds don't really absorb any liquid so they will require less wet mixture for a loose granola or will simply form better clusters with more. Rolled grains (oats, quinoa, rye etc) and puffs, as well as things like buckwheat and shredded coconut do absorb liquid so you may need a bit more than the advised measurement of syrup and oil if you're after sticky crunchy clusters that are heavy on oats and puffs without many seeds and nuts.
Olive oil adds a lovely spicy and herbal note to the granola. Maple syrup stands up to the cacao and adds a hint of caramel, however rice syrup or would be fine as well. Feel free to use whichever oils and syrups you prefer.

 

vegetarian // vegan // gluten-free // dairy-free // soy-free