Do you know what today is? It's World Nutella Day! Let's all cheer and get hopped up on sugar and palm oil!
Wait, that isn't right… is it?
Please indulge me for a moment as we hop into the time-machine — help yourself to a cup of tea or a shot of bourbon and remember to buckle your seatbelt as we flash-back to my original anti-Nutella post three years ago:
… On the World Nutella Day site the founders claim: Nutella is more than just a "chocolaty hazelnut spread," it is a way of life.
Let's pause for a moment to recap the ingredient list of Nutella: sugar, palm oil, hazelnuts, cocoa, skim milk, reduced minerals whey (milk), lecithin as emulsifier (soy), vanillin: an artificial flavor.
Ahem. That is certainly not the way of life I'm looking for — so instead of celebrating things that make me cringe I made a real-food fruit-based Chocolate Hazelnut Spread. And the following year I made an Aussie-tella Chocolate Macadamia Spread.
Then last year hazelnuts and I had a falling out (it involved a food processor and it wasn't pretty), and while all is fine between us again I'm still wary of the tough little nut… So this year, in celebration against of World Nutella Day I'm bringing you not only an alternative to Nutella, but a nut-free alternative. How very fancy of me.
It only has three ingredients, although you are welcome to add more. Can be whipped up in a matter of seconds, really. And while (like Nutella) it's Gluten-Free, Contains No Artificial Colors and Contains No Artificial Preservatives, it also (unlike Nutella) contains no artificial flavours, or processed sugar or animal-cruelty palm oil or diary or soy or nuts.
It's also just as good on a spoon as spread on toast — how terribly convenient.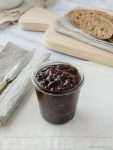 Chocolate Tahini Spread
Three ingredients, absolutely no nasties, spread on everything you can. Recipe can be easily scaled up or down using 1 part each ingredient by volume, not by weight.
INGREDIENTS
½

c

tahini

½

c

cacao or cocoa powder

½

c

rice syrup (or maple syrup or honey depending on your fructose/grain/animal product tendencies)

pinch sea salt (optional but highly recommended)
METHOD
Allow tahini to come to room temperature (if you store it in the fridge) or heat very gently in a saucepan until fluid. Stir through cacao powder, syrup and salt.

Spread on things, or eat with a spoon. As all these ingredients have a long shelf life it should last for ages.
COOK'S NOTES & SUBSTITUTIONS
Want it less sweet? Use rice syrup or add less syrup all together.
Want it sweeter? Use maple syrup.
For a thinner spread add oil or warm water a teaspoon at a time (however water will shorten the shelf life of the spread).
vegan // vegetarian // gluten-free // dairy-free // soy-free // nut-free // probably paleo