Another year has come and gone, and once again the speed with which it has passed left me nearly speechless.
I probably should have made this into a wrap up post of some kind, a reflection on the year with a positive quote about goals and the future… but while 2014 has been a year of fabulous success and learning and excitement it's also been one of struggle and fear and big decisions and I really don't feel like recounting any of it at the moment!
What I do feel like however is fragrant roasted strawberries that made the house smell like a candy store.
And cold wedges of the 8.4 kilo watermelon (thats an 18.5 pound beast) currently taking up most of our fridge.
And a glass of sparkling something — usually water, sometimes sober cider, occasionally champaign — to clink with RJ.
I feel like fireworks and a dip in the ocean and long lazy brunches that turn into lunches just because they can.
And I feel like pretty pink popsicles.
So I'll leave you with said popsicles and the best of wishes for the new year.
May 2015 be kind and generous to your soul, I'll see you on the flip side.
xx
~JJ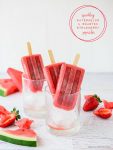 Sparkling Watermelon & Roasted Strawberry Popsicles
Roasting strawberries intensifies their flavour and sweetness, taking ordinary summer fruit to new heights. Blending with juicy watermelon and sharp sparkling creates a popsicle no one can resist.
Serves
:
10
- 12 Popsicles
INGREDIENTS
500

g

strawberries (1 lb)

2

tsp

coconut oil

2

tsp

maple syrup

500

g

watermelon flesh

1

c

sparkling apple cider, champagne or mineral water (250 ml)
METHOD
Preheat oven to 180°C (350°F). Hull and cut strawberries into thick slices.

Place berries on a baking paper lined tray, drizzle with oil and syrup and roast for 20 mins until syrupy and impossibly fragrant.

Blend the watermelon flesh until smooth, add roasted berries and all the pan juices and pulse a few times until berries are roughly chopped. Stir in sparkling beverage of choice (do not blend, it will bubble over).

Resist urge to stop now and simply serve mixture over crushed ice. Instead, pour into popsicle moulds (I used this classic popsicle mould), leaving a bit of extra space at the top for the bubbles to expand. Freeze for at least a few hours, inserting sticks after the first 45 mins or so.
COOK'S NOTES & SUBSTITUTIONS
Sparkling: alcoholic or non-alcoholic apple cider will make these quite intense, sparkling mineral water will tame the sweetness a bit, champaign or sparkling wine will end up somewhere in the middle.
Syrup: yes you can use rice syrup or honey depending on your fructose/grain/vegan affiliations.
DIETARY CONCERNS
NATURALLY: vegan // vegetarian // gluten free // dairy free // refined sugar-free // soy-free // nut-free // probably paleo