It was the same drill every year, a holiday tradition involving whomever was at our house on Easter morning. It started when we were small enough to believe that gifts and treats were left by a mystical figure while we were sleeping, and continued well into our early adult years when we knew who really left the gifts, but didn't care because surprise and anticipation held enough of a shimmery charm to continue the charade.
Before we appreciated the allure of sleeping late, my brother and I would wake up at some un-godly hour, sit at the top of the steps trying to peek – unsuccessfully – downstairs, while nagging incessantly and ever more loudly at our parent's bedroom door until they relented and got out of bed.
Later on they would have to drag us awake sometime before mid-day, but the reveal dance was always the same. Lined up on the top landing – sometimes oldest to youngest sometimes the other way around – we would all traipse down the staircase in our pajamas to see what kind of goodies had been left during the night.
Easter morning was filled with pastel plastic Easter grass, festive baskets, far too much chocolate and fluffy stuffed animals. One year there was even a gorgeous little black bunny, although he liked chocolate a bit too much for his own good… big tip, keep leftover Easter candy away from hoppy bunnies… ahem.
Anyway, after the basket contents were fully examined it was time for the Easter Egg hunt! Our colourful dyed eggs from the previous day had been diligently hidden overnight by the Easter Bunny – in plain view of course – and N and I had already spotted our first targets well before the flag dropped.
There was much rushing around, an occasional dive or push and plenty of gloating as our masterpieces were located under chairs and behind pillows and inside pot-plants. Of course once the excitement was over there was always one egg missing and we'd have to go through it all over again until it was located.
As we grew up the stuffed animals ceased, the quantity of chocolate went down while the quality went up, and the hidden hard-boiled eggs were traded-in for florescent plastic ones. The hunt moved to the backyard out of respect for the furniture and as the plastic eggs had been filled with single dollar bills we were even more driven to get as many as we could hold.
While the plastic eggs could be conveniently packed away a day or two after Easter, for years we had to find something to do with all those leftover hard-boiled ones — I may have insisted on dyeing them even when they were no-longer used in the hunt… These lightened-up Easter Egg Salad Wraps are the perfect solution.
If you're wondering where the luscious dye colours came from make sure to check out my 6 Natural Food-based Dyes from yesterday!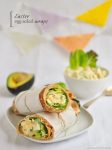 Easter Egg Salad Wraps
Don't let all those colourful hard-boiled Easter eggs go to waste! This quick, lightened-up egg salad wrap is the perfect solution.
INGREDIENTS
8

hard-boiled eggs

3/4

cup

thick natural or greek yoghurt

1/4

cup

chopped parsley

1/4

cup

diced cucumber

1

large pinch sea salt

fresh cracked pepper

1

tsp

whole grain or dijon mustard

(optional)

1

tsp

Sriracha or other hot sauce

(optional)
To serve
flat-bread wraps

lettuce leaves

sliced avocado
METHOD
Peel and roughly chop eggs. Scrape into a bowl and gently stir through other ingredients (yoghurt through salt plus any optional extras).

On a piece of flat-bread layer lettuce, egg salad, avocado, lettuce. Roll up and secure, cut in half if using large wraps.

COOK'S NOTES & SUBSTITUTIONS
Make it dairy free: Substitute the yoghurt with 3/4 c mashed avocado + 1 Tbsp lemon juice or apple cider vinegar.
Make it low-carb: Wrap egg salad and avocado in large lettuce leaves.