Every so often I think that I'd like to be one of those people who post relevant, seasonal, festive recipes for every imaginable holiday… Then reality and life set in and I get over it pretty quickly (haha).
But amazingly I've managed to post a hot cross bun recipe every year, except for the first, since I started this little corner of the internet.
2012 kicked off the Easter parade with Sour Cherry, Orange and Earl Grey Hot Cross Buns. 2013 and 2014 were two of my faves with Berry Filled Hot Cross Buns and Sticky Date & Chai Hot Cross Buns.
Then 2015 hit and it was all about Banana Split Hot Cross Buns (and a post that still makes me laugh), followed by the need to one-up myself in 2016 with Rainbow Swirl Hot Cross Buns.
But this year I'm just out of a sling post-shoulder surgery and kneading dough was most definitely off the table. However I couldn't go without my beloved HCBs, so a no-knead version was born — and an unintentionally vegan no-knead hot cross bun recipe at that!
The buns have a slightly tighter crumb than using a traditional method (the last rolling step helps this though so don't skip it!) but are just as fragrant and festive as any original.
Not to mention that while they do need to rise overnight the hands-on time is truly negligible. The evening quick-prep means you'll have fresh baked hot cross buns the next morning in almost no time at all. How's that for an Easter surprise!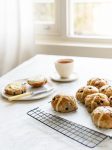 No-Knead Hot Cross Buns
Minimum effort, maximum payoff -- classic spiced hot cross buns without the kneading.
INGREDIENTS
1 1/4

cups

water

warm/room temp

1

tsp

active dry yeast

1

Tbsp

maple syrup

1

cup

whole wheat flour

2

cups

unbleached white flour

(plus extra for dusting)

1

tsp

sea salt

1

tsp

ground cinnamon

1/2

tsp

ground ginger

1/2

tsp

cardamom powder

1/4

c

olive oil

1

cup

dried fruit

1/2

cup

chopped nuts

2

Tbsp

apricot jam

(for brushing)
For the crosses
2

Tbsp

unbleached white flour

2

Tbsp

water

(plus a touch more if necessary)
METHOD
Combine water, syrup and yeast in a jug and stir to dissolve. Set aside for 10 minutes until foamy to ensure your yeast is alive

.

In a large bowl combine flours, spices, salt, dried fruit and nuts, and stir well. Add yeast mixture and oil and mix vigorously with a wooden spoon for 20 strokes.

You should have a shaggy, very sticky dough. If you can't mush it around with a spoon because it's a ball, or you can still see flour, add a Tbsp or two of extra water and stir again.

Cover bowl with plastic wrap (this keeps the humidly in) and set aside overnight -- for at least 8 - 12 hours -- until doubled in size.


When ready to bake, line an oven tray with baking paper. Sprinkle about 1 Tbsp white flour on your benchtop and scrape dough out of bowl. Use a dough scraper or a spatula to gently pull the bottom edge of one side of the dough up and into the centre, then repeat 4 or 5 times all the way around the edge.

Sprinkle top with a pinch more flour, flip over and cut into 9 wedges. With floured hands form each wedge into a ball then roll on the benchtop to smooth out dough. Place on lined tray and repeat with the rest of the dough, then drape with lightly oiled plastic wrap (I used the same piece I had on the bowl) and leave to rise 30 mins.

After 30 mins turn on oven to 180ºC / 350ºF and leave buns to rise a further 15 mins while oven pre-heats. Meanwhile mix together flour and water for crosses -- you want the consistency of loose toothpaste. Scrape paste into a plastic baggie and snip the corner.

Remove plastic from the top of the buns and discard, pipe on crosses and bake 18 minutes until golden brown and cooked through. Cool 10 mins in pan, turn out onto rack, brush still-warm buns with gently warmed jam and leave to cool completely.

Best eaten the same day, or toasted/turned into french toast/sandwiched with ice cream/waffled, any day thereafter.

COOK'S NOTES & SUBSTITUTIONS
I used a mix of sultanas (raisins) and currents for the dried fruit, and walnuts and pecans for the nuts, but anything would work really.
When making the dough it's better to have it a touch too wet than too dry, the flour absorbs the water as it sits overnight and a dry dough will make for dry buns.