I've never been particularly good at the whole hostess gift thing. It's not that I don't have good intentions — I see gorgeous ideas all the time — but somehow anything remotely appropriate hides away in the recesses of my brain until the last moment when in a fit of oh-damn-I-forgot-again I simply grab a bottle of wine on the way out the door.
However this past Easter we had plans with friends for a lazy Sunday lunch and for once I came up with an idea in advance.
I had committed to bringing dessert (chocolate and cheese of course) but wanted to take something as a gift that wouldn't be eaten on the day. Since I'd been baking Hot Cross Buns for weeks it only made sense to whip up another batch for the occasion.
And so it was that we showed up with cheese and chocolate and fresh buns, fully prepared to head home with full bellies and empty hands.
Of course the good thing about going to a fellow food-mad person's house is that they will not only feed you well but will most likely send you home with goodies.
The chooks weren't being particularly generous that week, but the lime trees in the backyard were more than overzealous in their seasonal display. And so it was we headed home well-fed, one batch of buns lighter, and a few home-grown limes and kaffir limes richer.
(Side note — did you know that limes when ripe turn yellow like lemons? Yep. But only the peel, so when you slice into it the flesh is still green. Cool huh? Of course that would be far too confusing for shoppers and so limes are picked when they are still green.)
Now regular limes I use for pretty much anything, but kaffir limes? Other than zesting and pulping the knobby little buggers for the purpose of freezing and subsequently adding them to curries at a later date, or planting the seeds in my windowsill pots, I was stuck.
So there they sat — in a bowl on the kitchen benchtop, perfuming the air for days but accomplishing much else — until inspiration struck. People preserve lemons all the time, I bet I could preserve limes…
I immediately insisted that we go on a mid-week hunt for jars and rock salt, and less than 12 hours later I was slicing and packing and spicing like a woman possessed.
The resulting jars have been sitting in a cupboard for just under four weeks at this point, and in another one or two I'll break one open to see how it all turned out.
If it works (stay tuned for the update) it looks like I'll not only have a preserving success on my hands but a couple hostess gifts ready and waiting in the wings.
How very convenient.
Preserved Limes and Kaffir Limes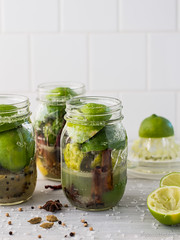 A twist on preserved lemons, these preserved limes have a special kick from fresh kaffir limes. Preserved lemons are common in Indian and North African cuisine, they add a salty and sour kick to tangines, slow braises, salad dressings and pretty much any other savoury dish — simply give them a quick rinse before using.
Makes one 16 ounce jar (16 oz = 1 pint = ½ litre), multiply as desired
INGREDIENTS
1 – 2 kaffir limes
1 – 2 limes
generous 1/4 c rock salt
1 quantity spices (see suggested blends below)
1/4 c fresh lime juice
2 tsp coconut sugar or raw sugar
Boiling water
METHOD
Cut limes into quarters through the top, stopping just before the base so the fruit opens like a flower. Fill each lime with 1 Tbsp rock salt.
Boil preserving jars and lids (or wash with hot soapy water, rinse well and dry in a warm oven) and set on a clean tea towel.
Pack salt-stuffed limes into hot jar, add desired spice blend plus sugar and any remaining salt. Pour over juice and top up jar with boiling water. Liquid needs to cover fruit with a bit of air left at the top of the jar. Seal immediately and allow to cool — the lids should pop in to seal as the contents cool.
Store in a cool dark place for 4 – 6 weeks before opening. To use, scrape out pulp (discard or add to stews and braises) and thinly slice peel. Add to savoury dishes at your discretion.
COOK'S NOTES
I used 1 kaffir and 2 regular limes per jar. The second regular lime was sliced completely through on one of the cuts as the halves packed more easily into the jar around the two full pieces of fruit.
Organic/unwaxed fruit is best however if it isn't an option — mix 1 part vinegar with 2 parts hot water and soak limes for 20 mins, then scrub lightly with a brush to remove the residue.
If lids don't pop in you can boil the lidded jars for 7 minutes and then leave to cool again. Lids should only be finger tightened before boiling so the air can escape.
——
Spice Blends for Preserved Limes
Each blend seasons 1 pint of limes
1 cinnamon stick / 2 tsp coriander seed / 2 – 3 dried chillis
5 cardamom pods / 3 bay leaves / 2 tsp black peppercorns
8 whole cloves / 1 – 2 star anise / 1 cinnamon stick
vegan // vegetarian //gluten-free // diary-free // soy-free // nut-free