I have had this recipe sitting in a notebook, and these pics sitting on my computer, for a while. I've been meaning to make it again and get some better photos, but I have been reasonably chocolate-ed out lately and so it has gone to the wayside. However, today has been claimed as 'World Nutella Day' so even though I will re-make the spread and take new photos eventually, I felt it was my duty to post this today in both celebration and revolt. What's one more chocolate recipe before we get back to the other stuff, right?
This deliciousness is not Nutella as you find it on a supermarket shelf. Yes it has hazelnuts and cocoa powder, but that is about where the similarity ends… thank goodness. On the World Nutella Day site the founders claim 'Nutella is more than just a "chocolaty hazelnut spread," it is a way of life.' Lets pause for a moment to recap the ingredient list of Nutella: sugar, palm oil, hazelnuts, cocoa, skim milk, reduced minerals whey (milk), lecithin as emulsifier (soy), vanillin: an artificial flavor.
The good news, if you are feeding this to kids or yourself to start the day as the commercials recommend, is that it has hazelnuts and cocoa and milk… the bad news is those only come after sugar – don't get me started, and palm oil – if you don't know why this is bad Google 'palm oil orangutans', don't do it while eating. And then there is some soy and artificial flavour to round it out.  It may just be me but that is not the 'way of life' I want.
This however… yep, this is a good way of life. 3 ingredients, all real, all unprocessed, all delicious. It could serve on its own as a vegan Chocolate Frosting for cake, or thinned with a bit of Whipped Coconut Cream as a Chocolate Mousse. But spread it on toast or pancakes or crepes and there you have it, Nut-tella-type Choc-Hazelnut Spread fit for any way of life.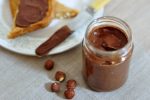 Nut-tella-type Choc-Hazelnut Spread
A chocolate hazelnut not-tella spread -- with ingredients you'll actually be ok with eating for breakfast!
INGREDIENTS
1

cup

raw hazelnuts (125 g))

1

c

mashed banana (approx 2 large or 3 small)

1/4

c

dutch cocoa powder

2

Tbsp

boiling water
METHOD
Toast hazelnuts over low heat, shaking pan until nuts are golden and the skins start to loosen. Tip into a clean tea towel and rub to remove skins.

In a processor or blender blitz hazelnuts to a fine meal, the finer you grind the smoother the spread.

Add mashed banana and blend until well combined and fluffy (You will now have banana hazelnut mousse - try not to eat it all at this point). Mix cocoa and hot water to a paste. Add to processor and blend to combine.

Store in a clean jar in the fridge. Spread on everything. (Throw out the name-brand stuff).
COOK'S NOTES & SUBSTITUTIONS
vegetarian // vegan // gluten-free // dairy-free // soy-free